Big Chubby Vegan was a Tiny Chubby Omni at one point. Hard to believe, I know. My entire life has revolved around food, and the joy it brings to each day. I'm not really sure if that's sad or awesome.
When my brother and I were kids, my mother made us a breakfast that her mother had made for her, whose mother had made for her, and so on. It involved scrambled eggs atop buttered toast, slathered in a cream sauce, dusted with paprika. The paprika topping was pretty much the only vegan thing in the dish!
I don't have a child for whom to make this dish, but I figured I had better get cracking on veganizing it, should my uterus one day decide to cooperate and procure some offspring.
The Buffalo Breakfast Potatoes on the side were my own little addition to this family tradition. My great-grandmother and her ancestors are probably rolling in their graves at the idea that I've taken all animal products out of their signature breakfast. Oh well. My great-grandmother was a cool cookie when she was alive, and she'd have dealt with it, but not before spewing out a few choice expletives.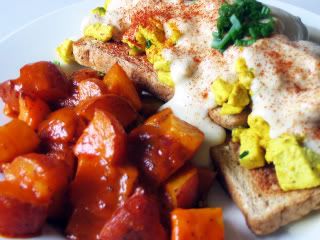 I hope everyone likes this stuff as much as I do. This breakfast is *really* simple, but it will look like you worked very hard on it.

It's something I grew up with, and therefore I have an attachment to it. If you don't think flour + "milk" = cream sauce, then you can feel free to yell at my great-grandmother for that, but she's dead and can't hear you.

Another thing... I like my scrambled tofu to be very simple. If you feel like you want to add more stuff to it, go for it, but this recipe is my go-to and by far the easiest tofu scramble of all.


Cream Toast
Serves 2 to 4


Toast Ingredients
4 slices of bread, toasted "buttered" with margarine (if desired. Buttering the bread is totally optional. Fatty and yummy, but optional.)

Sauce Ingredients
2 C Unsweetened Soymilk (or unsweetened "milk" of choice, but I prefer soymilk for this)
1/4 tsp salt
1/3 C unbleached, all purpose flour, sifted)
Sweet Paprika for garnish

Scrambled Tofu Ingredients
1 TB olive oil
2 cloves garlic, minced
1 pkg extra-firm tofu, drained, pressed, and diced small
1/8 to 1/4 tsp tumeric (depending on how yellow and tumeric-y you like your scramble. I use the full 1/4 tsp)
4 scallions, sliced thin (both white and green parts)
salt and pepper to taste
1/3 C nutritional yeast (optional, but recommended!)


Toast your bread and "butter" it. The toast doesn't need to be hot for plating, as long as everything that goes on top of it is hot.

Place all sauce ingredients except for paprika in a small saucepan. Whisk with a wire whisk until well-mixed. Don't heat yet.

Heat oil and garlic over medium heat in a large, heavy-bottomed pan. When fragrant, add the tofu, and turn heat up to medium-high. Saute, stirring often, about 5 minutes. Sprinkle in tumeric, and mix well. Saute 5 more minutes.

Turn heat on under your sauce ingredients, and whisk again. Heat, stirring often, until mixture starts to thicken, about 5 minutes. Stir continuously, until it becomes gravy-like and thick. Remove from heat. (Obviously, if the sauce isn't thick enough for your liking, add more flour. If it's too thick, add more soymilk and whisk.)

At this point, your tofu should be nice and firm. Add scallions, and saute until they are done, about 2 minutes. Add salt and pepper to taste. Add nutritional yeast, if using. Mix well.

Plate the toast, and spoon the tofu mixture over it. Spoon equal amounts of sauce over each serving. Dust with a generous amount of paprika.

Serve with additional salt and pepper at the table for those who like a more seasoned cream sauce. You can also serve it with the Buffalo Breakfast Potatoes.
Buffalo Breakfast Potatoes

Serves 3 to 6 people

5 medium to large red potatoes, washed and diced (leave skin on!}
1/4 to 1/2 tsp kosher salt (however salty you like it)
1/4 tsp freshly ground black pepper
Cooking Spray
4 TB vegan margarine
5 TB Frank's Original Red Hot Sauce (NOT the buffalo sauce.. the regular hot sauce!)

Preheat oven to 375. Line a baking sheet with parchment paper, or lightly oil.

Spread potatoes over paper or oiled sheet. Sprinkle with kosher salt and pepper.

Place in oven, and roast for about 20 minutes.

Meanwhile, in a small saucepan over medium high-heat, melt the margarine, and stir the hot sauce into melted margarine. Heat for about 4 minutes, until boiling. Remove from heat.

Remove potatoes from oven when they are cooked through and browned. Pour potatoes into the saucepan with the margarine mixture. Coat well.

Pour back onto baking sheet and roast for another 5 to 10 minutes. Serve.


(These are going to be VERY tangy, but not necessarily spicy. Reduce the amount of sauce if you don't like it too saucy!)