As 2008 approaches, I want to make the assertion that I haven't fallen off of the face of the planet. For some of you that is good news. For others, maybe not so much.
I haven't come up with any new recipes recently. When "holiday season" hits, I get very happy, but part of me also wants to die just a little. Any of you with perfect families and stress-free holidays can simply bite me. Trying to devise something brand new that tastes good between Thanksgiving and New Year's while attempting to field some 500 phone calls a day from my mother would be purely masochistic. Aside from what you may have heard in careless whispers or seen written on a skankalicious bathroom wall, I am not quite that addicted to pain.
Really, though, I sort of miss real food. Some people know that the holidays are here by looking out the window and seeing blinking lights haphazardly thrown on bushes and windows. Some people know by going to the store and hearing those everlasting Salvation Army bells. Some people know by turning on the television and being scolded by every last network that diamonds are the only thing people want for Christmas. But how do I know the holidays are here? I know the holidays are here because I can eat 47 pitas with a pound of store-bought hummus or leftover tortilla chips from Chipotle dipped in brown gravy for dinner, and think absolutely nothing of it.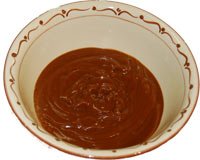 Well, of course my phone is calling my name and I will have to be going soon. It is my mother, of course, but it's not holiday related. This time she wants to know if I'd be terribly hurt if she chose a picture for her "parent album" from my brother's wedding that didn't include my husband. Did that confuse you? Great! It confused me, too. This is the same person who calls to tell me she can't talk right now, so don't read into things too much.
Happy Holidays, everyone!