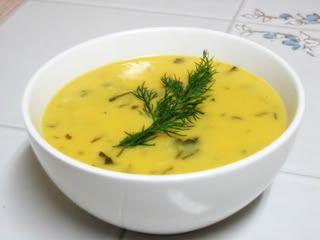 OneChubbyVegan's Veganized Avgolemono Soup

1 quart vegetable both
1/4 C long-grain white rice
3 TB nutritional yeast flakes (optional)
2 tsp tamari (optional)
1 C soymilk, or other unsweetened vegan "milk" of choice
2 TB cornstarch
1/4 tsp tumeric
1/3 C finely chopped chicken-style seitan (homemade or storebought)
2 TB vegan margarine or extra-virgin olive oil
1/4 to 1/3 C fresh lemon juice (use 1/4, then test for tartness, and add more if necessary)
zest from 1 small lemon, or 1/2 large lemon
1/4 C chopped fresh parsley
Salt and pepper to taste (about 1/2 to 1 tsp of salt, and 1/4 to 1/2 tsp of pepper)
Fresh dill for garnish (optional)

Add vegetable broth, rice, nutritional yeast, and tamari (if using) to medium stockpot. Bring to a boil, and then lower heat, cover, and simmer for 25 minutes, until rice is cooked.

Meanwhile, in a small bowl, mix the soymilk, cornstarch, and tumeric with a fork or whisk and set aside.

When 25 minutes is up, re-stir the soymilk mixture, and add to soup. Stir well, until thickened. Add seitan, margarine, lemon juice, and lemon zest. Mix well, and test for tartness. If more tart flavor is desired, add extra lemon juice.

Add parsley, salt, and pepper to taste. Stir well. Serve with some freshly snipped dill, if desired. This recipe will double well.